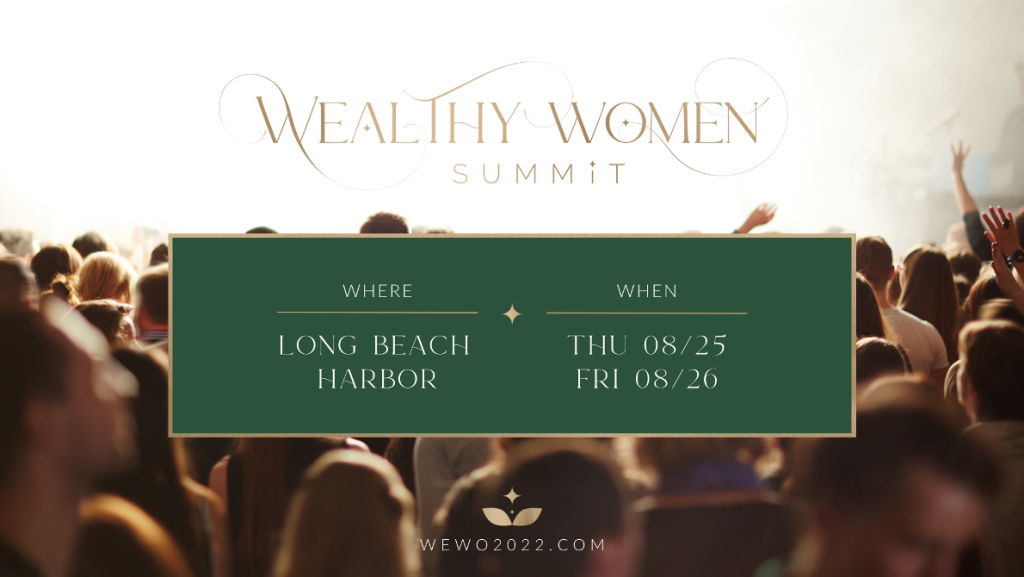 Even if you didn't attend Women on the Rise 2020, you may have heard about the launch of Her Currency Summit, a conference hosted by BRA that was all about women and money. Sadly, COVID shut it down like drunk 20-something girls on Spring Break in Miami.

Well we're back! Newly branded, better, and stronger than ever.

Wealthy Women Summit is not just for entrepreneurs looking to capitalize on their wealth; it's for all y'all looking to advance your financial position, despite the patriarchy's efforts to keep us down!

If you know me, let me ask you… have I ever done anything "typical"?
Nah.
The same goes with building my first official conference.
The Wealthy Women Summit is set in the sunny harbor of Long Beach, CA because nothing feels more empowering than a conference on a yacht. (If we're looking to promote our wealth position, I figured we should start by thinking about wealth in a thematic atmosphere. *wink*)
Set for Thursday, August 25th and Friday, August 26th, the purpose of #WeWo2022 is to position ALL women — not just entrepreneurs — to come together in a place that allows them to grow their wealth.
Here's the twist: what really is the measure of wealth anyway? You can seek wealth in so many different ways. And guess what? It doesn't have EVERYTHING to do with the dollars in the bank
This experience will include the development of a:
• Wealthy Mind
• Wealthy Soul
• Wealthy Body
• Wealthy Family
• Wealthy Community
• Wealthy Woman
• Wealthy Growth Mindset
• (and obviously) Dolla Dolla Bills Y'ALLLLLLLL
In short, we'll be tackling wealth from every angle, especially the toughest one — the dollar amount in your bank account doesn't determine your worth, you do.