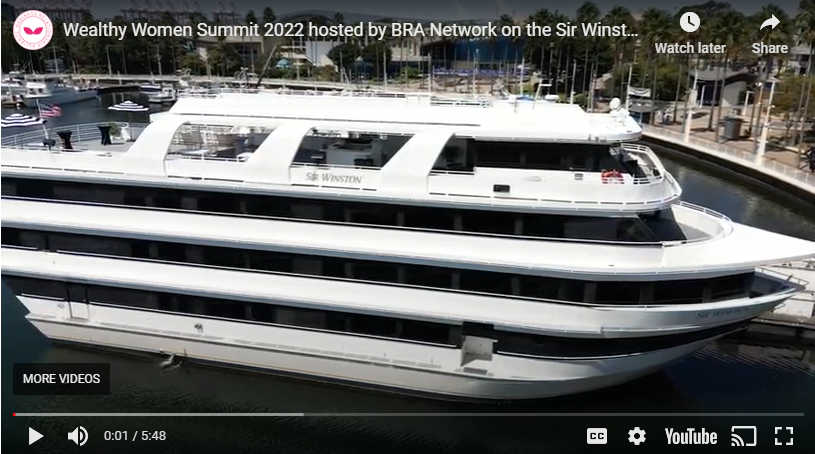 "WeWo2022 was one of the best events I've attended. I can't say enough about the speakers, the amazing connections made, the wealth and variety or information that was fresh, valuable, implementable and beautifully presented in a variety of formats. It was a unique and special experience that I won't forget. I can't wait for the next one!""
— MICHELLE PERKINS, LIMIT FREE LIFE
There's nothing that gets my creativity and motivation going like being in a room full of like-minded women and the Wealthy Women Summit more than delivered on that. It's also one of my absolute favorite things about spending time with BRA Members.
That's not to say I'm shouting into an echo chamber full of homogenous women all the time — the BRA Network is full of diverse Members with widely varying interests, fields, experience, and ideas. And that makes our discussions all the richer. Instead of being left alone in my own spin, I know I can attend a BRA event or jump on our Slack channel and get quick and varied feedback on whatever's going through my mind.
Already since the Summit, I've had conversations with Members about where to invest in real estate and what cryptocurrencies to buy next; I've had some really poignant and touching one-on-ones about dispelling our own money myths and cleansing myself of old money stories; and I've been personally focusing on encouraging others to RECEIVE more (a lá Andrea Quinn).
The Summit was more than I could have hoped for — especially given that it was the inauguration. Set on the gorgeous Sir Winston Yacht with the Long Beach Harbor as the backdrop, we had magnificent weather, delicious food throughout the event, stunning décor by Soirée L.A., and a speaker list that could not be beat.
As Vicki Saunders started us off with her keynote address, the room vibrated with energy and excitement.
I had to literally contain myself as Arlan Hamilton took the stage to interview Vicki for a live recording of her podcast.
Throughout the first day, we heard from speaker after speaker and the buzz only continued to grow. We saw friendships made between attendees and speakers, we saw lightbulb moments occurring constantly, and we even saw a business forming right before our eyes.
"OMG!! It was truly an amazing and impactful experience — so much so that my friend and I launched our travel and events business, Two Peacocks Travel, right after WEWO! Your selection of speakers was FIRE!! Rachel Rodgers, Arlan Hamilton, Jannese Torres, She Angels investors panel, Vicky Saunders, Andrea Quinn, Leslie Hassler and all the others were so inspiring, influential, and informative! The meditation activity on releasing negative money stories was impactful and the networking was on a whole other level. I even texted two friends to join the second day. We connected with so many wonderful and supportive experts. And lastly, but not least the venue and service was perfect! Huge thank you to Carrie and team for a superb event! I'm ready to join BRA!"
— ANA
Our Mendocino Farms lunch came just in time to rejuvenate us physically to keep up with our whirring minds so we could finish the day out strong and Arlan Hamilton was kind enough to sign copies of her book, take photos, and chat with attendees.
Then it was time to finish off the day.
We discovered how to get funding and become an angel investor (Moderator Catherine Gray, Laurel Mintz, Ann Metzger, B. Pagels-Minor, and Kelly O'Connell); we released negative money stories with Amy Schuber; we heard from the Women of Wealth of the BRA Network (Moderator Analisa Moskus, Tisha Morris, Diana Greshtchuk, and Rita Boccuzzi); we learned about real estate investment from Moderator Monick Halm, Dominique Vescuso, and Lanisha Stubbs; we discovered the art of receiving wealth from Andrea Quinn, and we had an oceanside chat with Vicki Saunders.
We ended the day with a lively Happy Hour on the Veranda Deck with incredible views. Pink Agua rosé and Beach Town Pops kept the libations flowing while we mixed and mingled and talked takeaways from Day 1.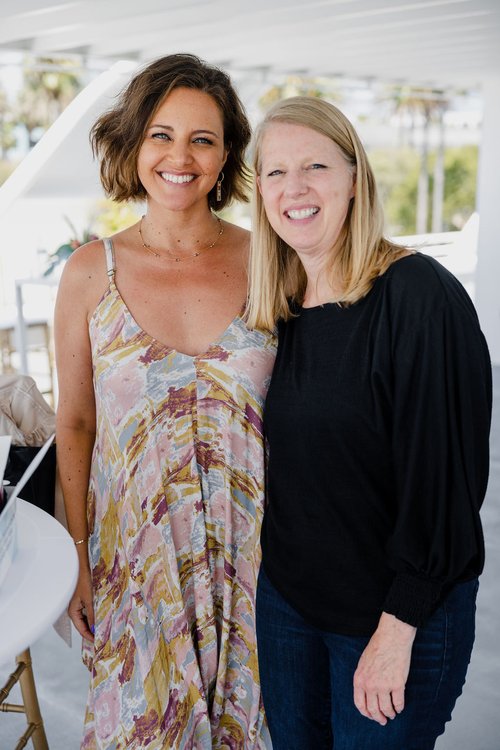 #WeWo2022 Day 1 Highlights. Photo Credit: Lexus Gallegos
I could barely sleep that night. I wondered if Day 2 could live up to what we'd all experienced on the first day. But any worry I had melted away immediately as attendees arrived to a sound bath provided by Julie Habelmann of Noble Tones Sound Meditation.

Then, as Rachel Rodgers took the stage, I knew Day 2 was going to be just as impactful.

Rachel shared her money-making strategy with a cheering crowd, but it wasn't a lecture. She wanted to hear from attendees — what motivated them, what they did for a living, and more. It was personal. Somehow in a room packed full of intently listening women, Rachel managed to make it an individualized conversation between herself and each and every single one of us. As a Shmillie myself, I was ecstatic to lead an oceanside chat with her after her keynote.

"I was filled with joy to see women rallying together to educate, acknowledge, and support each other's ability to be abundant and game changers for this world #inspired "

— ANDREA QUINN
With our flavorful and healthy lunch provided by Vita Bowls, we surged toward the last half of Day 2.
Karen A. Clark of City National Bank surprised and delighted the crowd with her powerful talk.
Analisa Moskus offered an Introduction to Cryptocurrencies.
Jennifer Cassetta had everyone feeling much more like a badass as she taught the crowd how to unleash their money mojo with wisdom from the dojo (and she signed copies of her book at lunch!).
Leslie Hassler showed us the six places our businesses were hiding profits.
Joanna Waterfall led a heartfelt talk on creating impact with and finding purpose in our work.
Jannese Torres got everyone on board to get creative with their passive income streams. And I counted myself extremely lucky to finish off the Summit with another oceanside chat with Jannese where we were able to get real.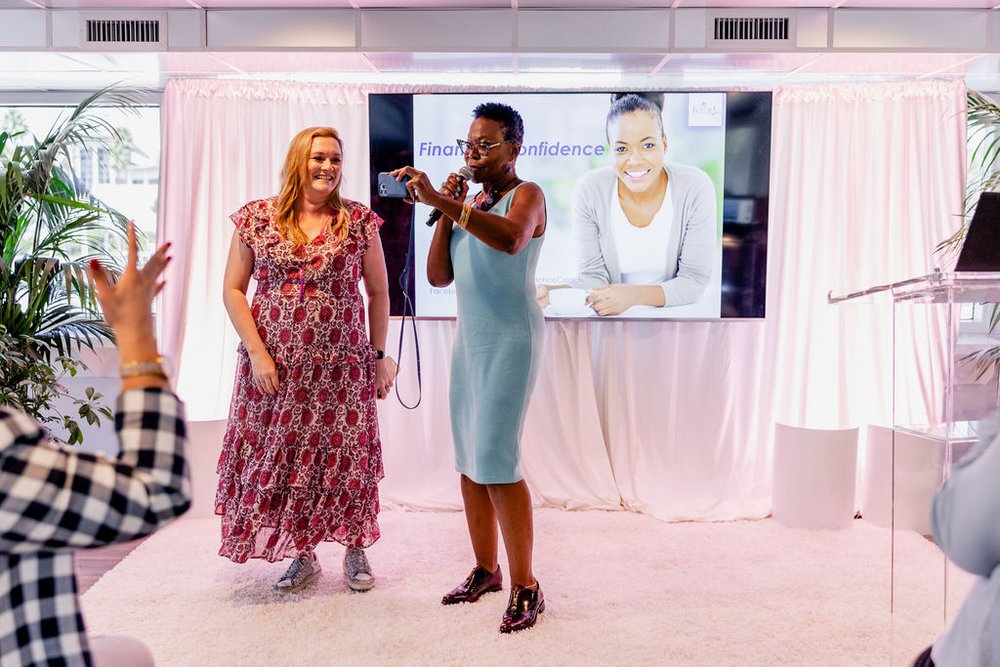 #WeWo2022 Day 2 Highlights. Photo Credit: Lexus Gallegos
"To have been able to attend a summit like WeWo this year was more than needed after a long hiatus of in-person events. One would have thought that in a room filled with wealthy, powerful, boss women you would feel intimidated – it was the complete opposite! The group of women there were so welcoming, inspiring, and so open to share their stories, thoughts and helpful tips for creating abundance and living a purposeful life! WeWo exceeded my expectations! Not only were the speakers so informative, welcoming, and helpful, but the location was just absolutely amazing! I really appreciated the books and the food was healthy and delicious. Overall it was an awesome experience and I look forward to coming back next year!"
— JESSICA
But one of the best things about WeWo was seeing the connections made, the support everyone happily provided one another, and the excitement shared. Special thanks to City National Bank and Goldman Sachs' B2B 10k Grant for helping us make this Summit a reality!
If you weren't able to make it this year, there's no reason you should miss out on all of the wisdom that was shared by our incredible speakers. We've made the information presented during the Summit available for purchase online viavideos, audios, and transcripts.
It's hard not to get excited thinking about how we'll build on the event for next year. We can't wait to continue to wow you.
And big things are already in the works for next year! Make sure you join our email list so that you can stay up to date on all the excitement coming this way.