BRA Network just celebrated our eight year anniversary and, although I like to shine a light on everything we achieve individually and as a network all year long, it does cue the mental film recap of everything we've gone through to get where we are today.
We've benefited from eight years of connection, networking, friendships, collaborations, support, education, and FUN. What a wild ride it's been and I'm so glad you're with me for it.
I started BRA with so many hopes for what we could achieve, but I have to say, we've far surpassed so much of what I dreamed was possible for our Network.
This year we've seen several Epic BRA Collaborations with numerous Members collaborating on projects together to make something truly…well…epic as a result.
A Shining Example
But one of these projects in particular makes me beam with pride for what our Network does. Executive Producers and BRA Members Catherine Gray and Diana Greshtchuk are behind the documentary film SHOW HER THE MONEY, which is making a ton of waves — and it's no surprise considering how many BRA Members worked on it behind the scenes and in front of the camera!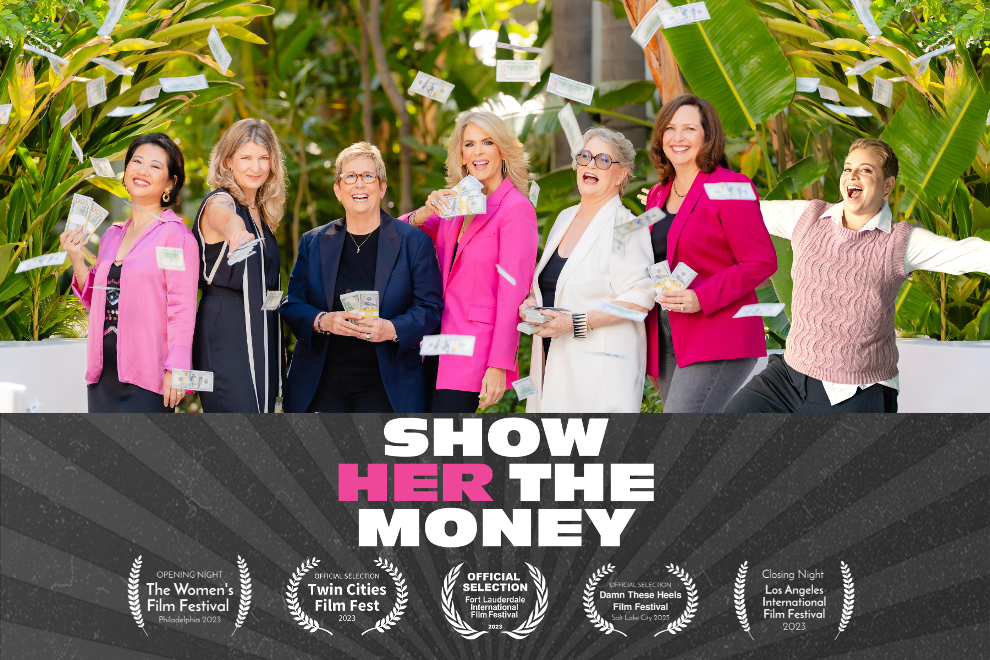 To round out the collaboration, the film features BRA Members Vicky Pasche, Charisse Pasche, Laurel Mintz and Kelly Winget on screen and has an Associate Producer team including BRA Members Helen Fanucci, Deb Smalley, Andrea Quinn, and BRA Founder Carrie Murray. (The music video also features BRA Member Jen Rafferty!)
Women have been shut out of the financial world, making it almost impossible to get their ideas and inventions funded. SHOW HER THE MONEY pulls back the curtain on the extreme underfunding of women in the Venture Capital world, with less than 2% of venture capital going to women. It features women entrepreneurs who bootstrap their companies into success stories, and the fierce and financially savvy women who fund them.
SHOW HER THE MONEY is a compelling and crucial reminder that money is power and women need it to achieve true equality. You can watch the trailer HERE.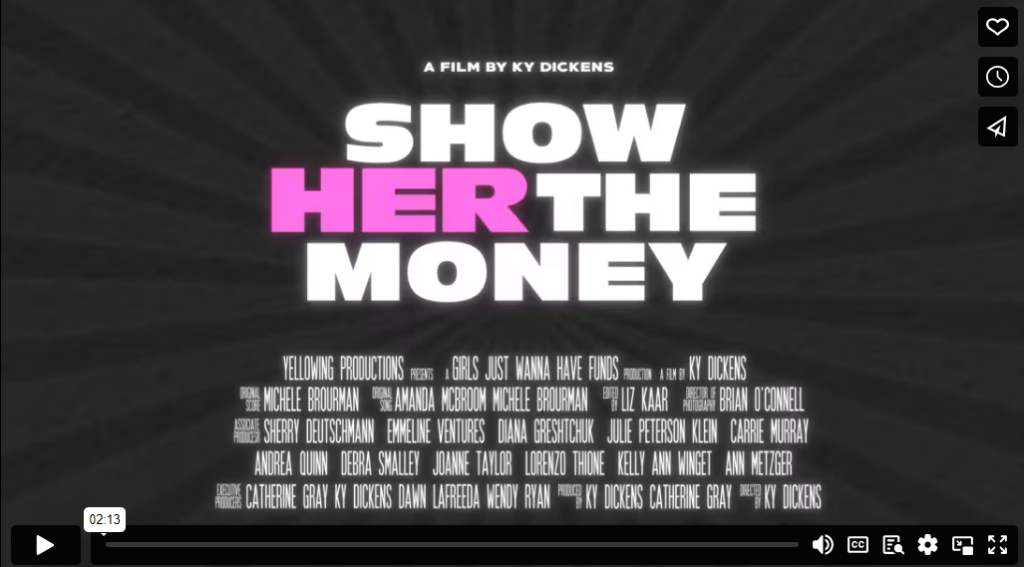 Collaboration Cascade
The SHOW HER THE MONEY film features a total of eleven BRA Members and is a shining example of what can happen when women connect, collaborate, and support each other.
I'm absolutely obsessed with how this whole collaboration got started!
Kelly Winget was a guest on Catherine Gray's podcast, Invest in Her, back in 2022.
After their discussion, Catherine mentioned to Kelly that she'd be on a panel at #WeWo2022 and Kelly decided she'd come to the Wealthy Women Summit to see Catherine's panel along with all of the other incredible Programming.
After seeing Catherine's panel, Kelly was eager to find another way to collaborate with Catherine and Catherine told her about a documentary film she was producing. You guessed it — it was SHOW HER THE MONEY.
Kelly brought in Vicky and Charisse who co-founded a body-inclusive gender neutral apparel line (Dapper Boi) that she had invested in.
From there the collaborations just kept on rolling. More and more BRA Members found out about the project and wanted in, lending their skills, experience, or monetary support along the way.
And there's still a chance for you to participate, too!
Come see the film with us!
There's a screening of SHOW HER THE MONEY on December 2nd at 1:30PM that we'd like to fill with BRA Members and supporters!
So, click here to get your tickets now and come support this BRA collab with your presence!
We're planning to gather pre-screening for a little networking, mixing, and mingling at 12PM at nearby North Italia. Let me know if you'd like to join us so I can keep an eye out for you! It's totally optional, but highly encouraged to really make a day of it.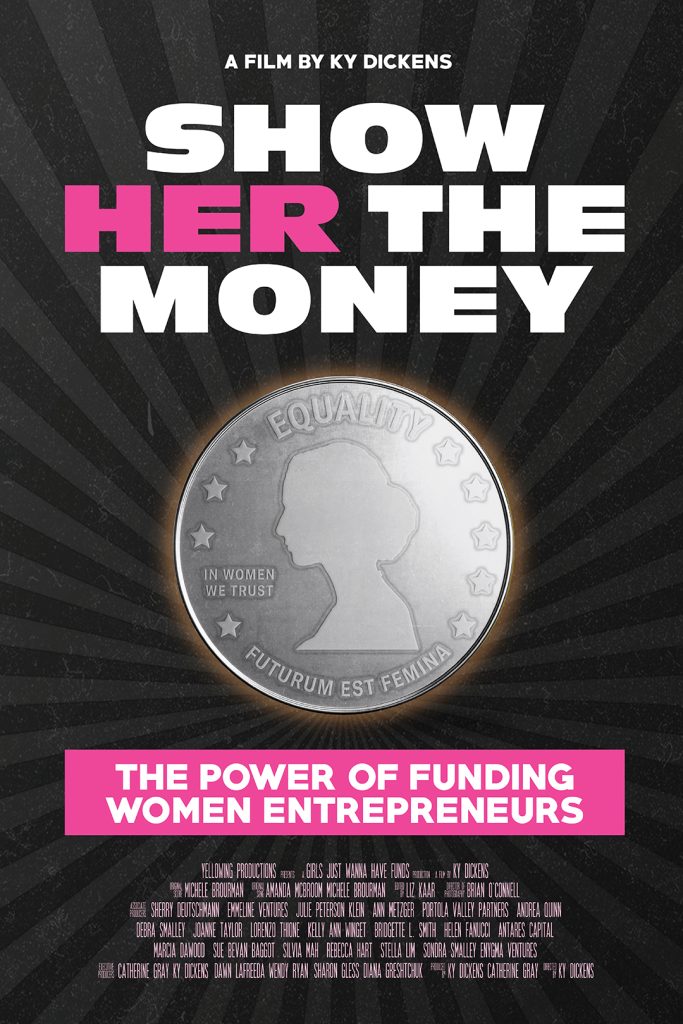 If you can't make it that day to watch SHOW HER THE MONEY with us, they're screening the film December 1st-7th, so you can find another time to support the project.
Seeking Your Own Collab?
I'm thrilled to say that these kinds of epic collaborations are happening more and more often within our Network, so if you're looking for an opportunity to get in on a large scale project like this, the timing has never been better.
The sky is the limit on what you can achieve when you collaborate with fellow BRA Members!
If you're not a Member, now's the time to join to make the most of everything we have to offer — including invaluable networking opportunities that afford the chance to connect with other Members doing great things.
If you are a Member and you're looking for opportunities to collaborate, let other Members know you're looking for them! Say something in the Slack channel, go to Push-Up Groups, come to in-person events, or even just send me an email and let me know if you're feeling shy.
This kind of collaborative spirit, where we all bring our own pieces to the greater whole, is really what we're all about. I can't tell you how happy it makes me to see it.
xo,
Carrie Murray, Founder
BRA – Business Relationship Alliance
WeWo – Wealthy Women Summit