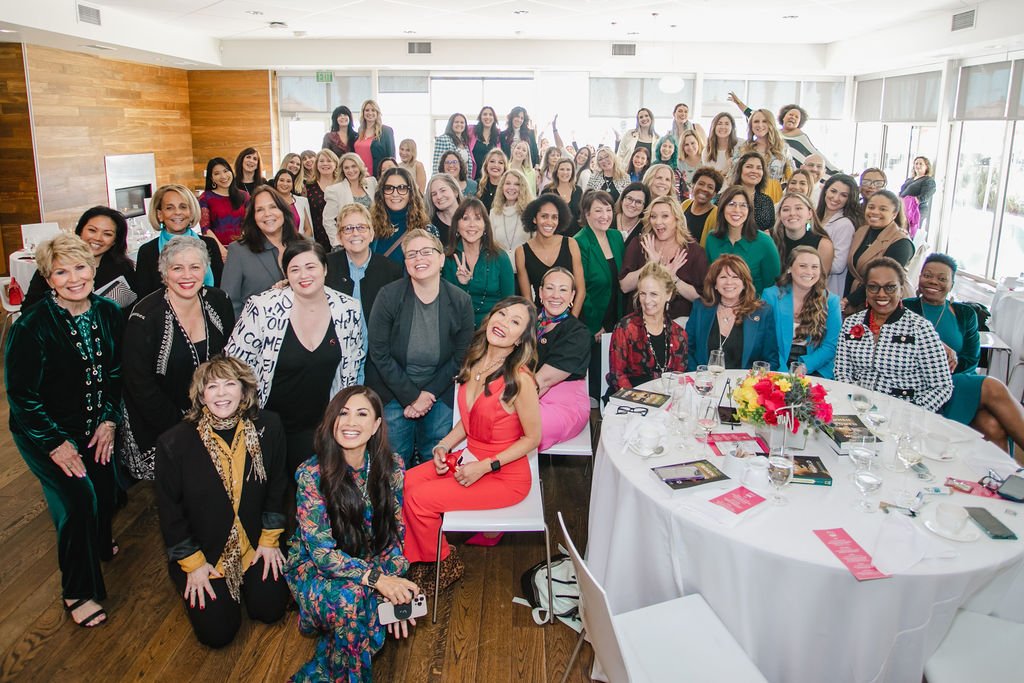 Women on the Rise, INDEED!
This is our most inspirational event each year, and once again, we sold out.
From the time we entered the beautiful Annenberg, the vibe went up, up, up!
As attendees arrived, they were greeted and invited into the banquet room where they immediately began mixing and mingling, taking photos in front of the bold, bright, and beautiful step and repeat, catching up, and making new connections. Since it had been over a year since the last Women on the Rise (our last luncheon was held in October of 2021 due to COVID), there was a definite air of reunion about the place. Watch what some of them had to say about being there…
But we were also thrilled to welcome so many new faces this year to one of our signature events. Starting with the Wealthy Women Summit in 2022, we've begun seeing more and more people coming to our events who haven't joined the Network yet. We LOVE getting the opportunity to show off the authentic connections BRA offers and invite newcomers to join our incredibly special community.
Since there will never be enough time to exhaust networking opportunities at a BRA event, we eventually had to direct attendees to their tables where they were met with a book by a feminist author. In case you'd like to read along, here is a list of the books we chose…
The Books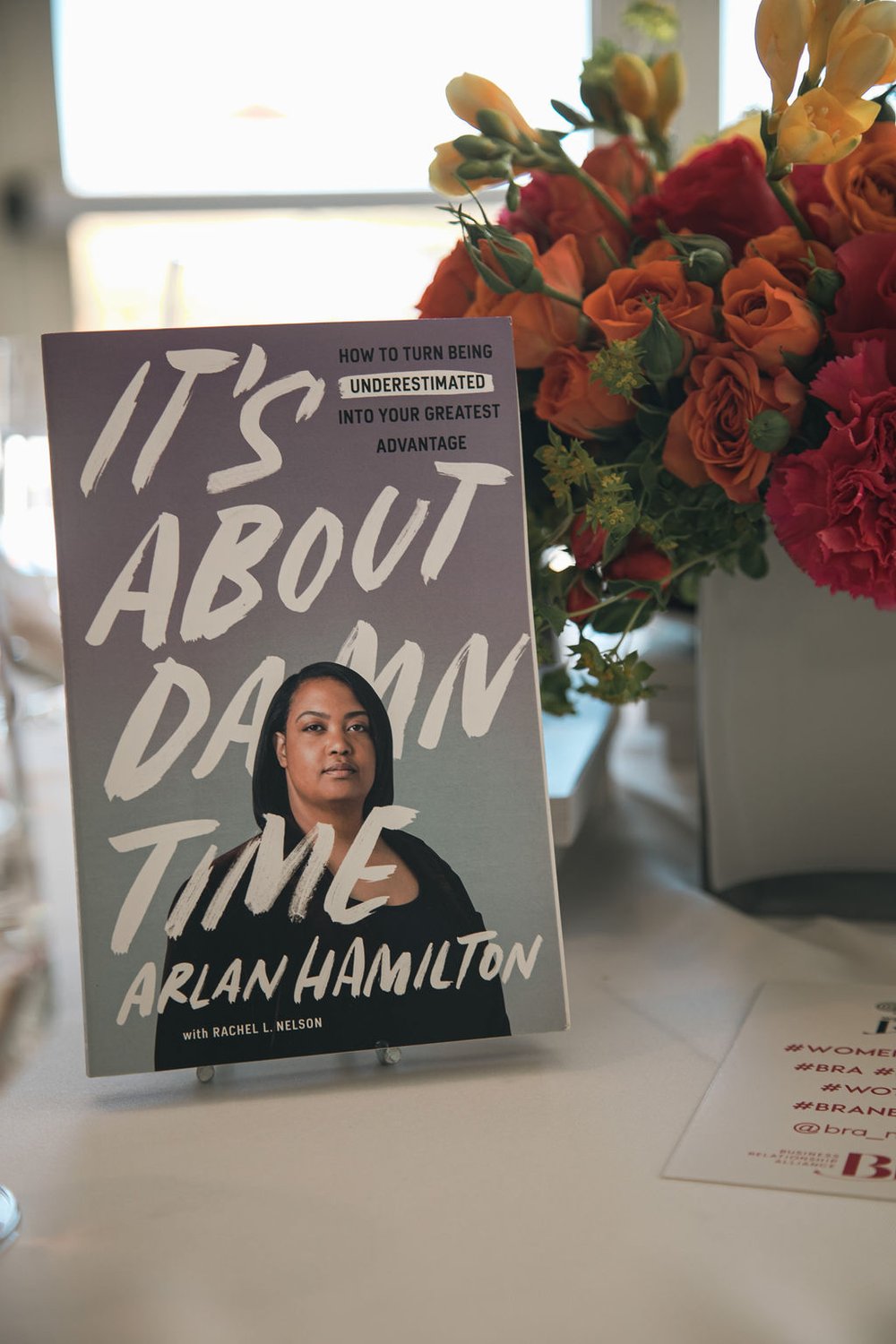 The Vendors
Jennifer Currier of Soirée LA opted for a sophisticated mostly-neutral palette so she could truly feature the books as part of the stunning burst-of-color centerpieces that worked beautifully with the radiant rainbow sunshine backdrop that served double duty as the step and repeat.
Schaffer Catering wowed once again with the artisanal bread board, baby kale salad, blue corn tostada stack, and seasonal fruit pavlova. We saw plenty of perfectly cleaned plates at the end of each course.
The meal wouldn't have been complete without the delicious Vermentino provided by our sponsor, Spirit Horse Vineyards. This varietal hails from the island of Sardinia in Italy. Layered notes of green apple, grapefruit and lime with a salty minerality on the back end. It is named for owner and Founder Heather Rader's grandmother Vivian. Vivian aspired to be a trick rider as a child and traveled the world working on cruise ships. Her stories are legendary and this Italian Vermentino is a perfect expression of her… free spirited, bright and beautiful with a racy finish.
The team of Rachael B. Photography was busy capturing ALL the amazing moments, and we've included a bunch of pictures in this post. If you want to scroll through almost 1,000 images to find your favorites, they're available in an online album HERE. Please feel free to download and share via your social media accounts using the hashtags #WOTR2023 #womenontherise2023 #BRAevents #BRAnetwork!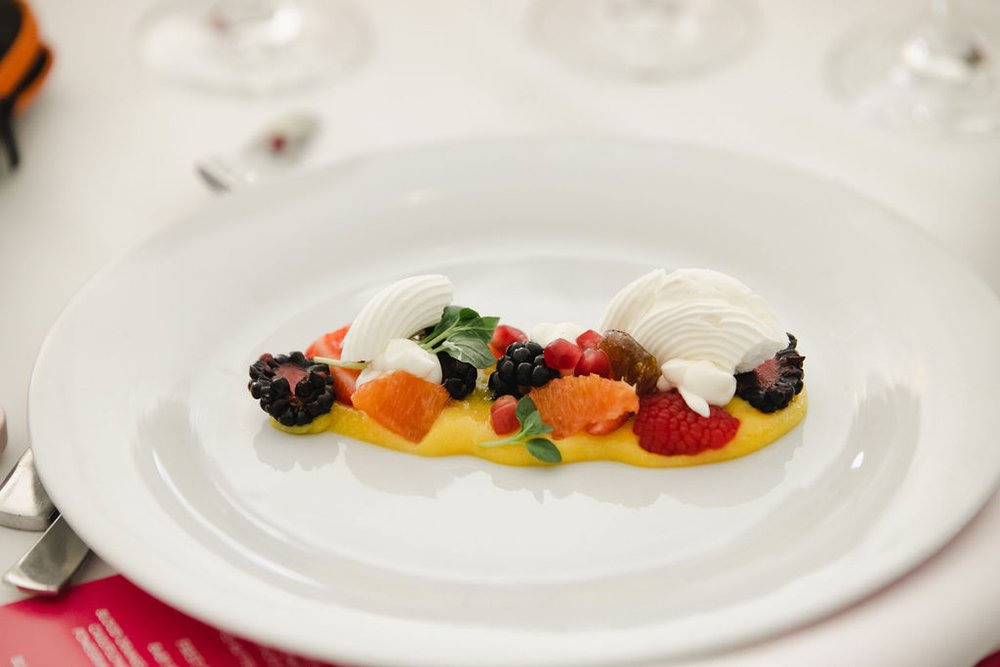 The Keynote Speaker
Keynote Speaker Karen A. Clark could not have been more electrifying. On more than one occasion, she had the entire room on our feet. She had us laughing, cheering, crying, celebrating ourselves and each other. Her address was about far more than confidence (although she's a pro in that department and coaches clients on finding theirs). Karen spoke to us about truly owning ourselves and all that we are, down to every single aspect of ourselves. We are multi-faceted, multi-dimensional beings and every single thing we are deserves celebration, ownership, and recognition.
And if that wasn't enough, the incomparable Karen A. surprised us with a generous $5,000 sponsorship on behalf of City National Bank! Thank you so much!!!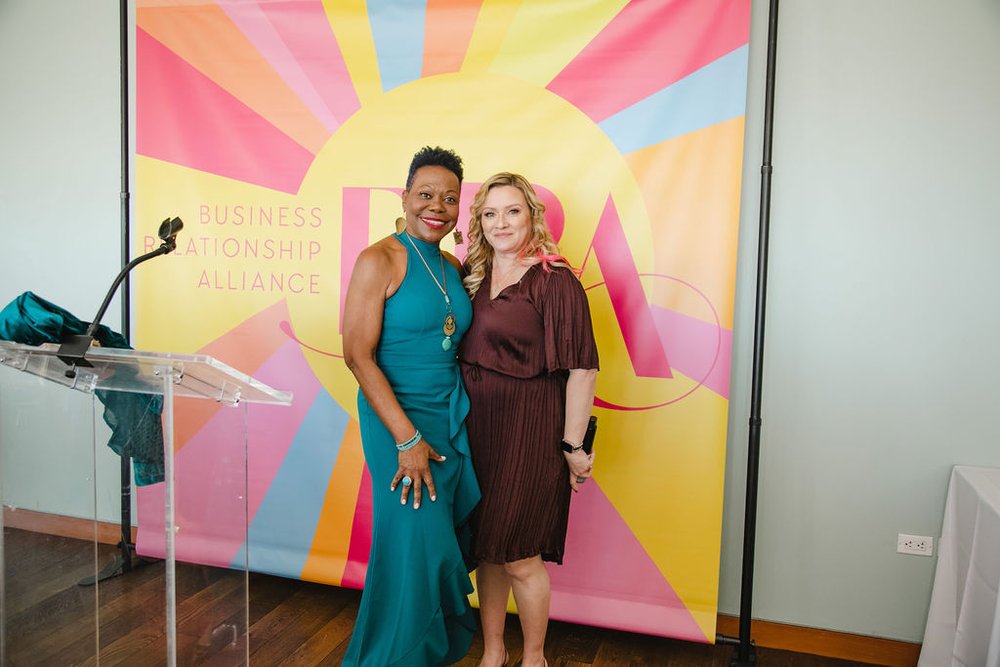 The Honorees
The theme of the event this year was Women Who Tell Our Stories, which felt entirely fitting as we honored the women we recognized this year:
Our Woman on the Rise, Bernadette Marciniak, is a mediagrapher who amplifies her clients' voices so they can feel truly and authentically heard.
Our Empowerment Leader, Katie Chin, is a celebrity chef, author, and advocate for those who cannot speak for themselves.
Our Visionary Entrepreneur, Simona Grace, is a mom who created a vehicle for women to garner the attention they need and deserve to get them into political offices.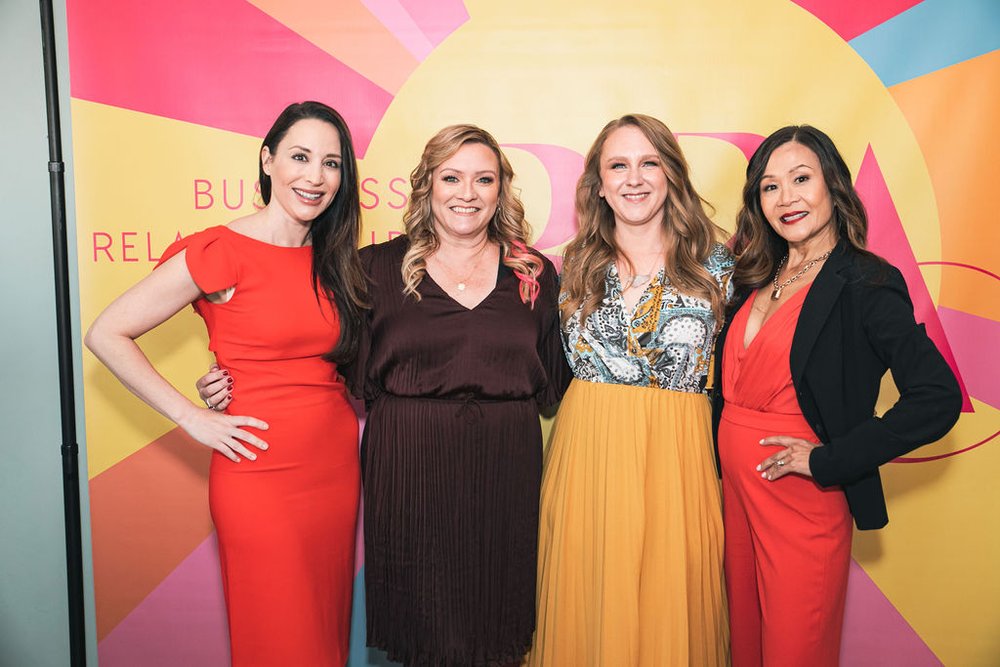 The Beneficiary
Our Beneficiary, Meredith Yinger of She TV Media, is a producer and director who has dedicated her career to telling stories about all walks of life and the full range of human experiences. We're thrilled to announce that BRA Network raised $8,000 from #WOTR2023 for the documentary film, Scars Unseen!
But that's not all… Meredith got the biggest surprise of the day when Cat Curry-Williams from the She Angels Foundation and Catherine Gray from the She Angel Investors presented her with a $5,000 grant towards their incredible documentary spotlighting domestic abuse survivors and their stories.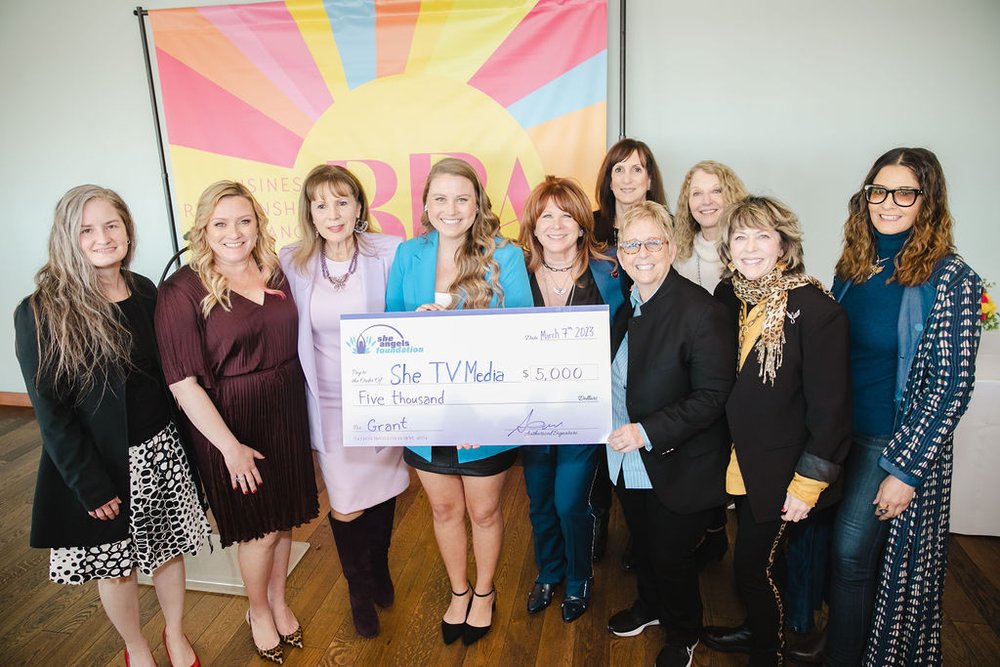 The Long Goodbye
By the end of the lunch, no one was ready for the come-down from the positive energy. We, per usual, outstayed our intended timeframe, trying to get every last drop of networking and connection out of the day that we could.
Notably, it was the first time that the entirety of Team BRA (Carrie Murray, Michelle Sciuto, Casey Killian, Shayna Marks, Analisa Moskus, and Shiries Stahl) were all together, in person, in one place.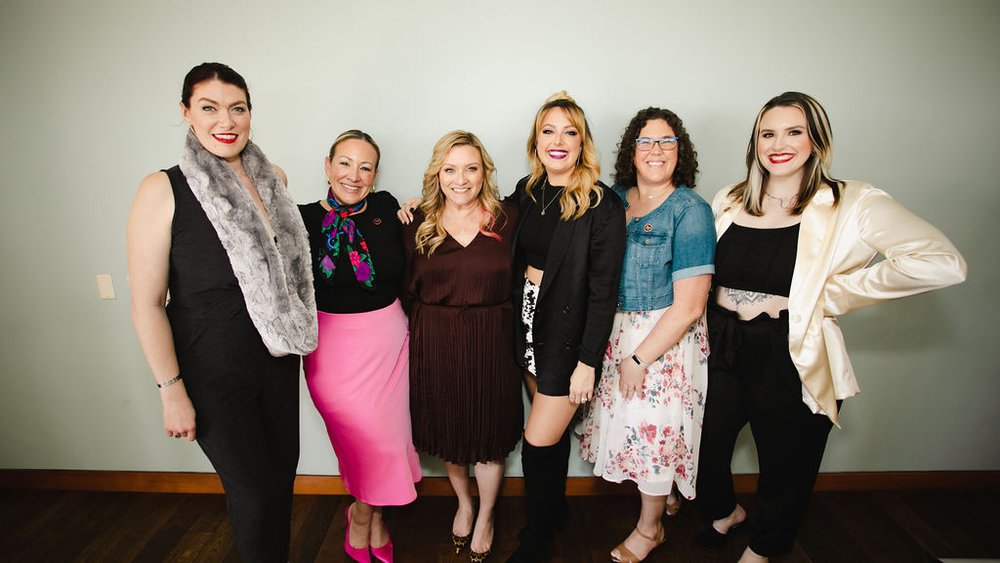 Goodbyes are always hard, but the amazing thing about a BRA event is that it's only a "see you later". We have far more programming in store this year and we cannot wait to welcome you back to our next event.

What's Next?
The next in-person event on the BRA Calendar is Cocktails & Conversation, but we'd love to see you before then at our the next free virtual Fitting Room!
Then stay tuned for what else we have in store by joining our mailing list or, better yet, become a Member to make sure you stay in the loop on exclusive Member events and benefits and get access to Members-only pricing and opportunities!